The Master DESIGN FOR FOOD integrates extensive design skills with thematic and specific competences in the food area, related to humanities, gastronomic sciences, engineering and food technology. Therefore, it provides a widespread designing capacity about process and tools for the design of the food product-service system and a series of specific in-depth useful for the understanding of culture, sociological and anthropological factors as well as the scientific and technological ones. Overall, it provides an explanatory and comprehensive overview of food systems, from agricultural production to food processing, from distribution to consumption, from planning to recycling in a sustainability and circular economy perspective.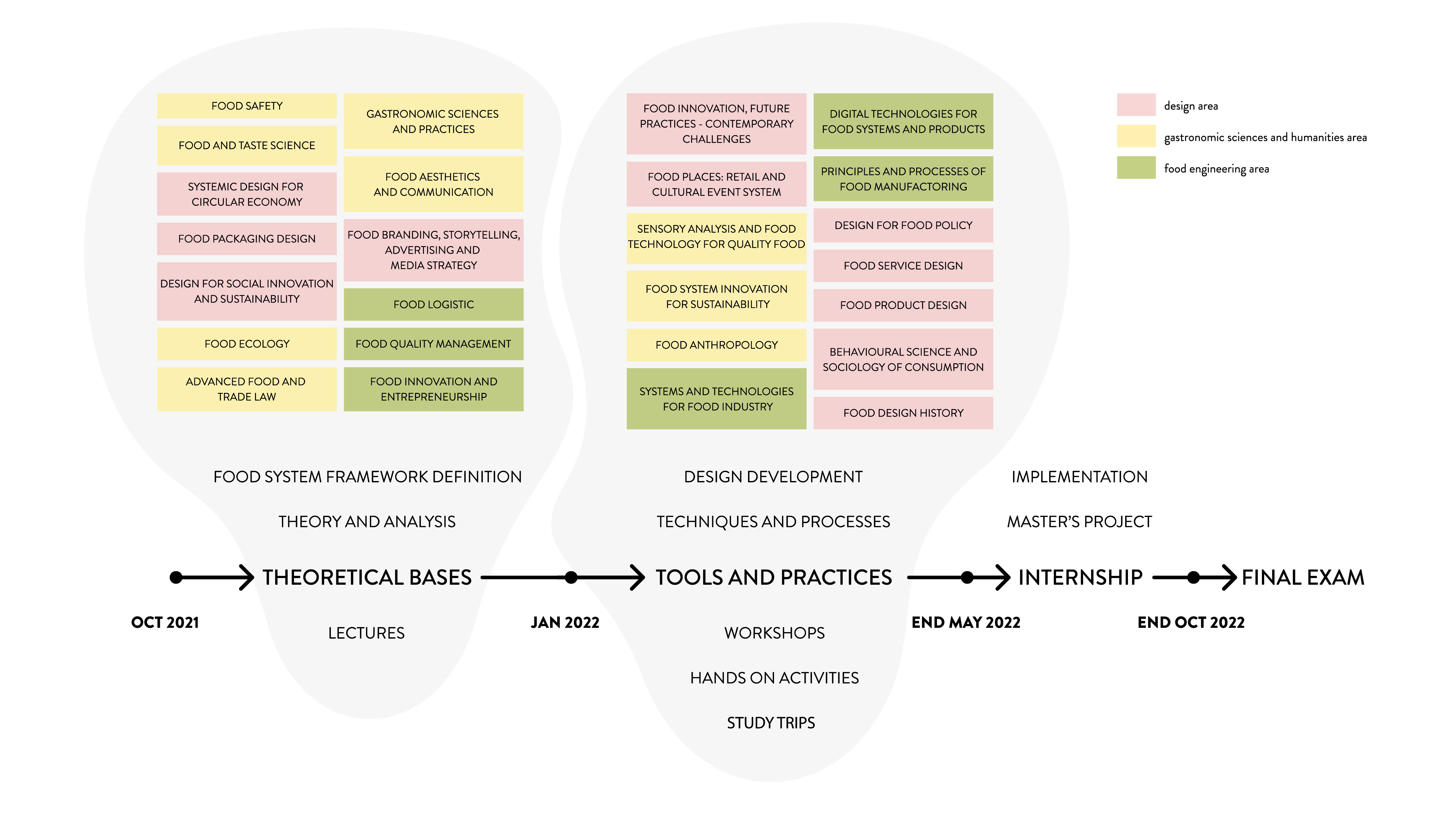 The Master in DESIGN FOR FOOD is divided into three main modules.


1. October – January
Introduction to the food sector, analysis and understanding of the main elements that characterize the current food system.
2. January – May
Acquisition of techniques and tools for design through experimentation and hands-on experiences.
This module is also characterized by:
3 workshops developed in collaboration with external partners and aimed at the development of innovative product-service ideas.
2 study trips aimed at integrating, deepening and contextualizing the theoretical knowledge acquired in the classroom regarding the production, processing, transport and consumption of food, through a unique experience that combines on-site visit, experimentation and tasting:
Study trip #1: Local Food System (April 2022)
"Local Food System" is a on-field experience, focused both on typical local products and production processes, always analyzed with respect to the geographical and cultural context visited. The tour carefully considers every scale of the production system, from small producers to industrial production, proving to be a highly effective method for approaching the complexity of the gastronomic system.
Study trip #2: Wine System (May 2022)
"Wine System" focuses on an area of Italian wine production and allows you to first-hand experience a wide range of educational activities related to the wine supply chain. The meeting with producers, experts and professional wine tasters enable the understanding of the vital role of wine vocabulary and to study the communication strategies of small wineries and large scale wineries.
3. May - October

Internship in companies, agencies, institutions and final exams. The final examination requires an individual presentation to the Master's Board of the candidate's portfolio summarizing the activity and the results achieved through his/her internship experience.